Mediaset is the holding company of the leading Italian companies in terms of audience and advertising market share in the commercial television sector. It broadcasts three of Italy's biggest generalist channels and has an extensive portfolio of free and paid thematic channels, both linear and non-linear, and OTTV. It specialises in the production and distribution across multiple platforms of entertainment, TV drama, films, news, sports, multimedia content and the sale of advertising. In the radio sector, RadioMediaset is the leading group in Italy in terms of ratings through five of the main national broadcasters.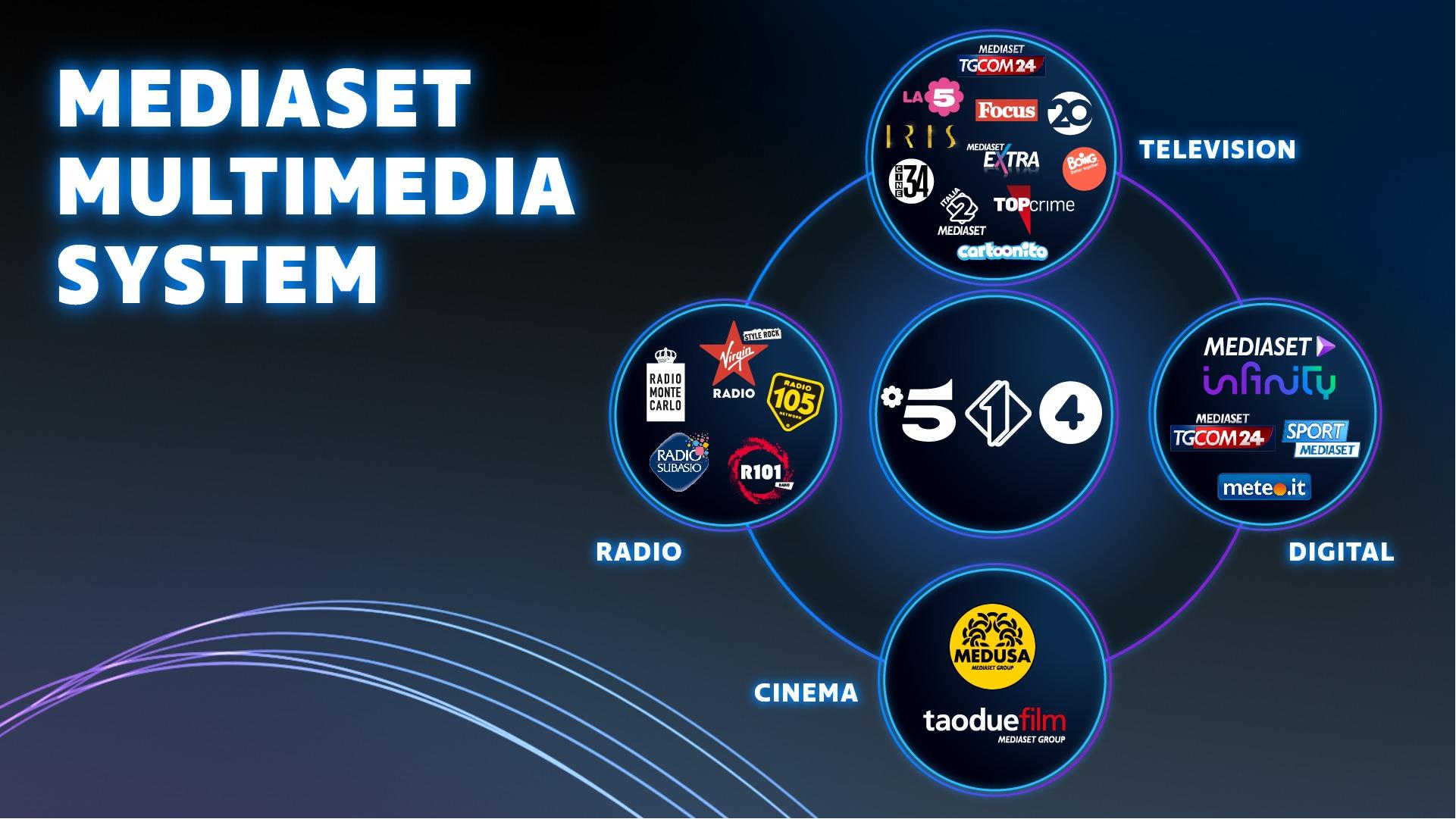 Mediaset:
FREE GENERALIST CHANNELS. Mediaset broadcasts 3 important generalist channels: Canale 5, Italia 1 and Retequattro.


FREE THEMATIC CHANNELS. Mediaset also broadcasts 11 free thematic channels: Iris, La5, Mediaset Italia2, Mediaset Extra, Top Crime, 20, Cine34, Focus, Boing, Cartoonito and the all-news channel TgCom24.


CONTENT PRODUCTION. Mediaset directly produces over 12 thousand hours per year of entertainment, drama, news and sports programmes. It is also active in film production and distribution through the subsidiary Medusa Film and in the production of television drama and cinema with Taodue.


NEWS PRODUCTION. Each generalist channel has its own news programmes: TG5, Studio Aperto and TG4 with a total of 13 editions every day. The internal news agency NewsMediaset produces services for all the news programmes, as well as infotainment shows and drives the multiplatform all-news TgCom24 system, leader in Italy in online news. Videonews is a company that specialises in the production of talk shows and information services both in daytime and prime time.


ON DEMAND STREAMING. "Mediaset Infinity" is the online platform, with a pyramid model, that offers the best of Mediaset programmes and a selection of high-quality on-demand content. The "Mediaset Infinity" pyramid has a very large base with great free content from generalist TV visible online, live or on-demand. In addition, with a light subscription viewers can access the top of the "Mediaset Infinity" pyramid with exclusive content (prime TV, films, series and vertical channels) and the best of the UEFA Champions League.


RADIO. With the radio stations R101, Radio 105, Virgin Radio, Radio Subasio and Radio Montecarlo, Mediaset is Italy's leading radio group.


ADVERTISING. Mediaset operates in the television advertising market through two wholly-owned sales companies (Publitalia '80 and Digitalia '08) and has a 50% stake in the cross-media advertising sales company Mediamond, together with Mondadori. Publitalia '80 is the leader in Europe and collects advertising for the generalist channels (Canale 5, Rete 4, Italia1) and free thematic channels. Digitalia '08 is totally dedicated to the pay offer. Mediamond manages the online activities of the Group and third parties, as well as the radio stations and Mondadori magazines
THE BOARD OF DIRECTORS MEDIASET S.P.A.
Fedele Confalonieri - Chairman
Pier Silvio Berlusconi - CEO
Marco Giordani - Director
Gina Nieri - Director
Niccolo' Querci - Director
Stefano Sala - Director